A Modern Vegetarian Restaurant
OUR AIM IS TO SIMPLY SHOW HOW MUCH NATURE HAS TO OFFER BY CREATING AMAZING VEGETARIAN DISHES USING THE BEST OF LOCAL FRESH PRODUCE
Why Organic:
Organic food is considered by many a new trend when in fact your grandparents ate organic food before the industrial farming revolution took over. Organic farming is simply correcting a societal mistake with food production going back to a time when food was just better.
Why Vegetarian:
We are not saying you should stop eating meat suddenly against your will.
There are advantages to being flexible with your diet. Two to three meat-free days a week can give you a considerable health boost and a chance to discover Nature has so much more to offer.

Then There's the Environment:
We believe in being pragmatic, in the end of the day we need a planet to live on. Our focus is foods and ingredients that can be sustainable from an environmental perspective, that can be produced artisanal as our human experience shows us is best, and ultimately that can be tasty and fun because life is too short.
No Meat, But Also No Soy! 
There's much more and much better foods we can have. So what are we waiting for? That was the thought we had when creating Oliveira Kitchen.
Our chef founder was born and raised in the southern plains of the Amazon Forest, in the small town of Ji-Paraná, in Rondônia State. He has witnessed from up close the irreversible damages our habits are causing to the very ecosystems we as a species need to survive. This restaurant was thought-out based on these premises. How can we co-exist, have fun, enjoy life without so much disruption to the environment. We have a few ideas.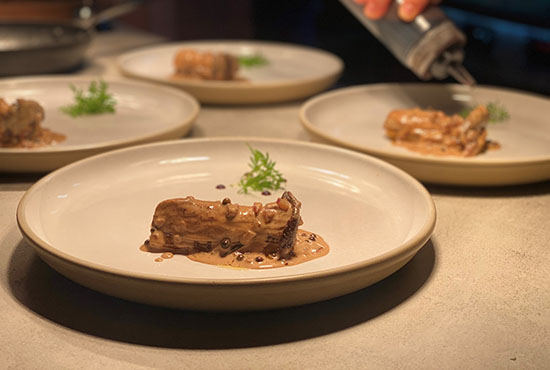 ADULTS ONLY POLICY
We know this will upset a few folks, but due to the design, size of the restaurant and the nature of our service we feel we aren't able to cater for the very little ones.
We have no toilet facilities for baby change, no high chair, no space for buggies and no children's menu.
Well behaved teens might be allowed during the earlier hours. 
If you ever find in your heart a way to forgive us for this, please visit us when you need some children-free time of your own.
BEFORE YOU BOOK
 We always keep half of the tables available for walk-in guests. We charge a non-refundable deposit fee of £10 per person on all reservations. The deposit fee is paid on the moment of booking and will be deducted from your final bill. Please only book if you are certain of attendance. If you can't be so sure you or your dining companions will make it, please don't book, you may choose to walk in instead. You are welcome to call the restaurant a couple of hours before your visit to insure there's available spaces for peace of mind. If you wish to have the Tasting Menu Experience or the Truffle Menu, you should purchase them here by clicking on their respective links. These special menus are prepared individually and uniquely for you and are offered by pre-payment only, alternatively the A la Carte Menu is available to all guests from 5pm till the end of the service. 
Thank you for understanding.
Our unique tasting menu experience is now available to book online with or without wine pairings. Enjoy 9 unique dishes crafted by our head chef. Please read our ADULTS ONLY policy
Best meal I've ever had at a veggie restaurant and best meal out in general in years! Such great menu choices, really good price and everything was so delicious! The staff were also really lovely, friendly and helpful. We will 100% be back! This restaurant is an absolute gem and I'm so happy we found it!
Veggie Heaven. I've not doubt even the hardiest carnivore would enjoy a visit here too. Once again we came away very satisfied and impressed with our overall experience. I'd definitely recommend a visit.
A DELIGHT IN TASTE. Oliveira is a great addition to the area, the ingredients are organic and locally sourced (wherever possible). The dishes are skilful, imaginative and interestingly presented. Amelio states that his greatest challenge is cooking vegetarian food which is also interesting to non-vegetarians, and I would say he is succeeding!
UTTERLY DELICIOUS FOOD! We were blown away by the quality of the dishes. Fully recommend it for vegetarians and meat eaters
IT WAS GREAT! The owners are so friendly and interesting, the decor is lovely and it has a good buzz to it. The food was very good, the pasta outstanding. I ate far too much and had to waddle home, but will be back very soon!
Please note: We have no toilet facilities for young children, no baby change facilities, no high chair and no children's menu. We are an adults only venue. Well behaved teens might be allowed during daytime hours.
PLEASE NOTE: We are closed on Mondays, so this year our Valentine will be on the Saturday before. Bookings available. Click on Make a Reservation on the top of the page.
Thursday ……….. Noon – 3pm   /  5pm – 11pm
Friday ……………… Noon – 3pm   /  5pm – 11pm
Saturday ………… Noon – 3pm   /  5pm – 11pm
Kitchen closes ONE HOUR before closing times
80 Paul Street
Shoreditch
EC2A 4NE
For parties over 6 people please get in touch to discuss your requirements.
No fake meats, no artificial substitutes, no ultra-processed foods.
For the same reason we don't do beef, we also don't do soy. For the same reason we don't cook chicken, we also avoid processed foods. And sure enough we abhor ultra-processed foods.
From an environmental stand point, if you are replacing a standard diet containing meat to then become an ultra-processed food client, you are not helping the planet. They are part of the same problem. You are only replacing one problem for another. And we are not even talking about what that will do to your own health on the long run. 
Artificial foods are not the solution. Lab made meats, fake meats or meat substitutes are not the solution. They are unnecessary. They are in fact an exacerbation of a wider problem, which is the global food production systems.
The solution, the real solution, is simpler than it seems. Visit a local vegetable market, buy a locally grown vegetable, go home and cook. When you don't want to cook, go to a restaurant that will do that for you. But do not eat vegan burgers. Do not eat vegan bacons or vegan meats of any kind. Unless, that is, you don't really want to help. In that case, why would you become vegan in first place.  
Researches have shown time and again that ultra-processed foods contribute more to greenhouse gases than many other groups. Moreover, processed food industries are the main cause for deforestation of tropical biomes from Borneo to the Amazon forest. According to a study published on UK's National Library of Medicine "the global industry food system and consequent rapid rise of ultra-processed foods is severely impairing biodiversity. Yet although the impacts of existing land use and food production practices on biodiversity have received much attention, the role of ultra-processed foods has been largely ignored." "The contribution of ultra-processed foods to agrobiodiversity loss is significant, but so far has been overlooked in global food systems summits. Ultra-processed foods need to be given urgent and high priority".
I short, as our chef would say: just don't eat junk! 
It's supposed to be simple to understand really.